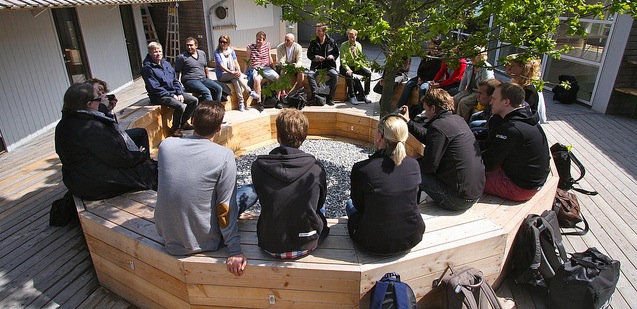 NEXT TRAINING: 25th -27th of september 2013 at Ekskäret, Stockholm. Learn more – click here
We are delighted to be able to invite you to the first open training in participatory leadership in Stockholm. We are offering this training because we believe there is a need for businesses, organisations, politicians and citizens to have conversations about the things that really matter. Therefore we invite you to explore an approach to leadership that not only sparks possibility, but also commitment and action.
Calling question
An 'Art of Hosting' training is often build on a 'calling question' which will be the red thread through the entire training.
The questions for this training are:

What does it take to create results that matter in a complex reality?
How can participation and co-creation invite commitment and bring value to life through community, business and broader society?
What is my role and personal practice as a leader?
Who should attend?
This training is for leaders in the private and public sector, entrepreneurs, change makers and educators dealing with the complex challenges and possibilities that we
are facing today.
At the training you will:
Learn about fundamental organizing patterns that invite profound shifts in how we can live and work together.
Experience and learn how to use tools that invite people to contribute their strengths and gifts to meet a common purpose.
Grow your ability to make a meaningful contribution.
Get connected to an international network of practitioners.
The training is built on the following elements:
Learning happens through doing: taking part in hosting, harvesting and designing builds your knowledge & skill level.
Working with questions that matter to us and taking them into conversations creates the platform for transformation.
Teaching of theories and underlying understandings.
Working with a suite of participatory methods enables you to work with what the group needs.
We create a learning community. Mentoring and guidance are available.
We will explore and practice methods such as:
Appreciative Inquiry
Powerful questions
Storytelling
Circle
World Café
Open Space Technology
Pro Action Café
Strategic documentation (Harvesting)
Chaordic Stepping Stones
8 Breaths of Design (a process design strategy)